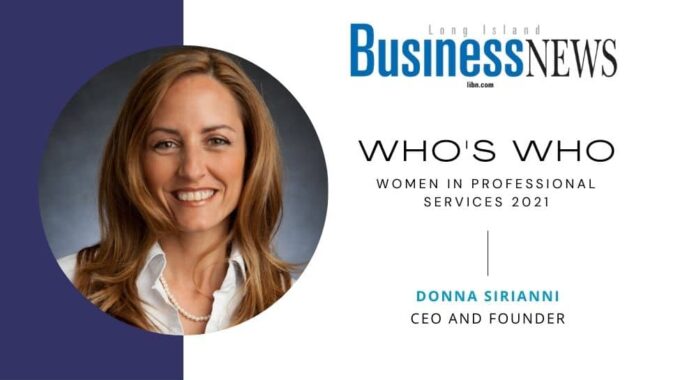 Donna Sirianni Featured in LIBN Who's Who 2021: Women in Professional Services
Originally published in Long Island Business News.
Donna Sirianni is CEO of Moving Forward Strategies, a premier professional and personal leadership training firm in Ronkonkoma. Sirianni has an incredible passion for people. As a speaker and seminar facilitator, she has conducted personal growth seminars for various companies in a broad range of industries.
A focus on the deeper meaning and purpose of business and life will continue to be a trend for the remainder of 2021, Sirianni said.
"The pandemic forced many people to reevaluate how and why they do their jobs," she said. "Many people were forced to confront the realities of working from home and dealing with real-life clashing with work life."
"That's why, as people start going back to the office and transitioning out of remote work, there will be a focus on how to balance scheduling and increase productivity," Sirianni noted.
Before partnering with Campolo, Middleton & McCormick Managing Partner Joe Campolo to form Moving Forward Strategies, Sirianni founded and led her own personal and professional development company, Moving Forward Seminars. Prior to starting her company, she enjoyed a successful career as a high school biology teacher and soccer coach. She received numerous accolades from the press and was a consultant on practical based education methods for teachers throughout New York State. Sirianni was sought after to develop curriculum and lead teams of educators in bringing educational theories into practice.
Sirianni is certified in N.L.P. (Neuro-Linguistic Programming) and has studied leadership throughout the country. She earned a bachelor's degree in biology and a master's degree in education and learning from Stony Brook University. She has also earned credits in administrational leadership from Columbia University Teacher's College.
Sirianni has been featured in newspaper articles and has been interviewed on domestic and international television and radio shows to discuss personal and professional development.
Moving Forward Strategies (MFS) was founded on the belief that training is the most critical tool to keep learning and growing, personally and professionally. MFS offers customized, cutting-edge leadership training that helps its clients maximize their success and transform their perspective to ensure a massive impact on their personal and professional growth.
Whether it's one-on-one coaching, a group training session with colleagues, or a dynamic event where individuals collaborate with new, like-minded people, MFS provides highly effective training solutions and interactive experiences so participants achieve their personal and professional goals.
Learn more about Donna Sirianni here and read the full LIBN Who's Who list here.