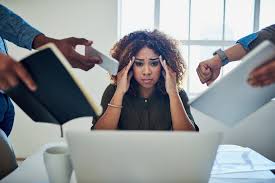 The Top 3 Reasons Business Leaders MUST Reduce Stress
In the fast-paced world of business leadership, it's easy to get caught up in the daily hustle and bustle, often neglecting our well-being. However, finding effective ways to reduce stress should be a top priority for every business leader. Here are the top three reasons why:
Enhanced Decision-Making: Stress has a profound impact on our ability to make sound decisions. When under pressure, our brains are flooded with stress hormones, making it difficult to think clearly and logically. As a business leader, your decisions can have far-reaching consequences for your organization. By reducing stress, you can improve your cognitive function and make more informed, strategic choices, ultimately benefiting your company's success.
Improved Health and Well-Being: The demanding nature of leadership roles often leads to neglecting personal health. Chronic stress can result in a host of health issues, including high blood pressure, heart disease, and mental health disorders like anxiety and depression. Prioritizing stress reduction through exercise, relaxation techniques, or mindfulness not only benefits your personal well-being but also ensures you have the vitality and stamina needed to lead effectively.
Enhanced Leadership Skills: Effective leadership is not just about making decisions and giving orders. It's about inspiring and motivating your team to achieve their best. Stress can make you irritable, less patient, and prone to micromanaging, which can negatively impact your team's morale and performance. When you reduce stress, you become a more approachable and empathetic leader, fostering a positive work environment that encourages creativity and productivity.
Finding ways to reduce stress is not a luxury but a necessity for business leaders. It directly affects your decision-making abilities, personal well-being, and leadership skills. By prioritizing stress reduction, you can become a more effective and successful leader, positively impacting both your professional and personal life. Don't underestimate the power of stress reduction in achieving your long-term goals as a business leader.