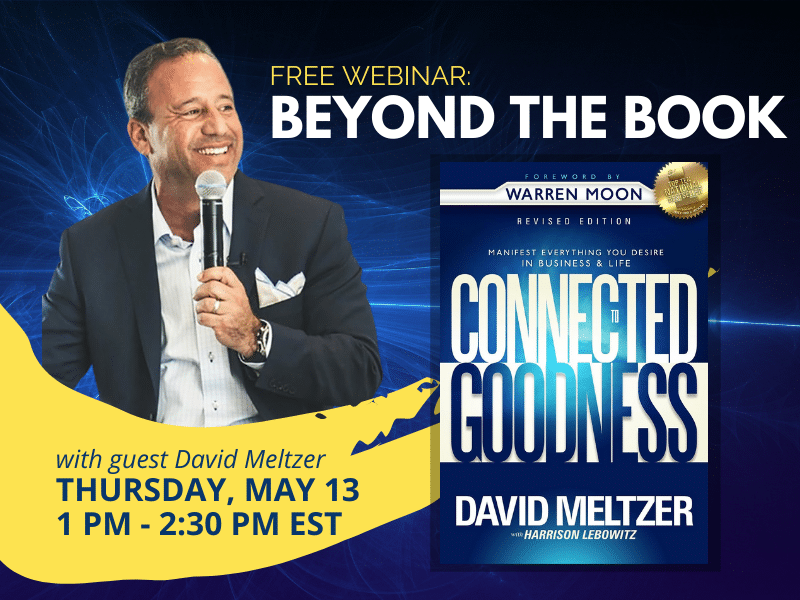 ABOUT OUR EVENT
In Connected to Goodness, David Meltzer reveals his proven seven interconnected principles for success in manifesting everything you desire in business and life. Meltzer's philosophy on how the combination of meditation, values, and energy has created the peace and balance he now enjoys in his personal and professional world, which allows him to live his mantra: make a lot of money, help a lot of people, and have a lot of fun.
Join us as we dissect the theme of this book during a complimentary webinar with MFS Founders Joe Campolo and Donna Sirianni. We will kick the event off with a 30-minute presentation from Joe Campolo to learn how he has manifested success in his personal and professional life as a U.S. Marine and Managing Partner of Campolo, Middleton & McCormick, LLP. Donna Sirianni will follow with powerful, interactive lessons that will help you tap into your spiritual side and focus your energy on your desires. Lastly, David Meltzer will join us for an intimate Q&A with the audience!
ABOUT THE AUTHOR:
David Meltzer is the Co-founder of Sports 1 Marketing, one of the world's most successful sports marketing firms, and has spent 25 years working as an entrepreneur and executive in the legal, technology, sports, and entertainment fields. He formerly served as CEO of the renowned Leigh Steinberg Sports & Entertainment agency, which was the inspiration for the movie Jerry Maguire. He is a philanthropist, three-time international best-selling author, Top 100 Business Coach, Fortune 500 speaker, Executive Producer of Entrepreneur's #1 digital business show, Elevator Pitch, and host of the top entrepreneur podcast, The Playbook.
EVENT DETAILS
DATE: Thursday, May 13, 2021
TIME: 1:00 P.M. – 2:30 P.M EST