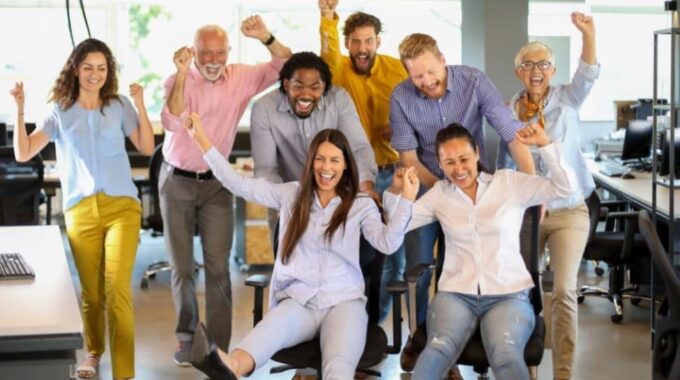 Why is Team Building an Important Investment?
Invest in Team Building for Success
Since the pandemic began, over 50% of employees have reported leaving their jobs to seek new ones. As employers struggle with high turnover rates, they have found that implementing team building exercises that promote a sense of togetherness helps boost motivation, morale, and employee retention rates.
Our co-founder, Joe Campolo has regularly utilized team building exercises and leadership training at his law firm, which has accordingly been distinguished as one of Long Island's top workplaces. This is a testament to the proven effectiveness of engaging your team in group activities that build trust, promote communication, sharpen management skills, and create impactful leaders.
There is an "I" in Team
In fact, there are many. Your team is made up of individuals, and each individual harbors their own unique talents, skills, weaknesses, and goals. In a productive workplace, employees know their peers' diverse individual strengths and feel safe sharing both ideas and mistakes with one another. Employees who have isolated mindsets usually lack the motivation and diligence that are present in employees who see themselves as part of a team.
There is plenty of evidence to support that most people work better when they are familiar with their coworkers. Therefore, it's crucial that your employees know and understand one another in order to work together productively. The other "I" in team is investment. As a business leader, your employees are your greatest asset and your most important investment. As with any investment, you want to ensure that you're choosing the best method for your goal.
What's in it for the Company?
Throwing an office party might boost morale but doesn't necessarily facilitate collaboration or increase productivity. Look at team building as an important investment that will bring long-term benefits to your business. This year, ExpertMarket reported that "teams with connected employees see productivity increase 20-25%" and that lack of communication costs large companies over $400,000 per year. Aside from saving you money, the most effective team building activities will:
Promote your company's business goals: A team building activity helps to ensure that your employees have a shared goal and are willing to work together to achieve it.
Build trust: A relationship wherein employees don't trust one another or their superiors makes for a doomed business. The implication of team building exercises alone shows employees that they are worth being invested in, which builds trust and appreciation.
Foster psychological safety: It is essential that employees feel comfortable to share new ideas, taking risks, embracing their failures, and expressing their opinions. Effective group activities will signify to employees that they are safe to think innovatively and that their voices matter.
Generate growth: A workplace is more productive when its employees understand their purpose, feel heard and important, and are willing to work together.
Benefit you as a leader: Utilizing a professional group training service can teach you what you never knew about leadership, and about your employees. You'll be able to delegate tasks and make business plans in a more informed way.
Team Building Tips
Investing in a team building program that is professionally tested and designed can yield several favorable outcomes. The best team building activities can lead to stronger leadership, better communication and time management skills, and the creation of a common goal. When beginning to plan for team building consider these tips:
Schedule the activity during work hours and check vacation times: Carve out an hour on a Friday to show your employees you care, and make sure a majority of them will be in attendance.
Use an off-site location: Introduce a new environment to rejuvenate your employees and make team building feel less like work.
Gather feedback: Ask employees how the activity made them feel or conduct surveys to monitor the activity's long-term effects.
Consider a professional: There are organizations of leaders and experts who are trained specifically in conducting effective team building activities and seminars. Investing in a team building exercise that has been proven successful could be best for your business.
If there was ever a time to ensure your team's collective efficiency, it is now. Whether your workers are returning to the office, initiating a hybrid schedule, or are continuing to work remotely, we are navigating a period of uncertainty and adjustment. Before confusion and stress overwhelm your team, step in as their leader, bring everyone together, and reinforce your business goals and ideals.
Every business is different. For customized group training experiences led by a proven leader, contact our expert leaders today for a consultation or for leadership group training.